Digital Banking
Watch the how-to video to enroll in Digital Banking or follow the simple steps.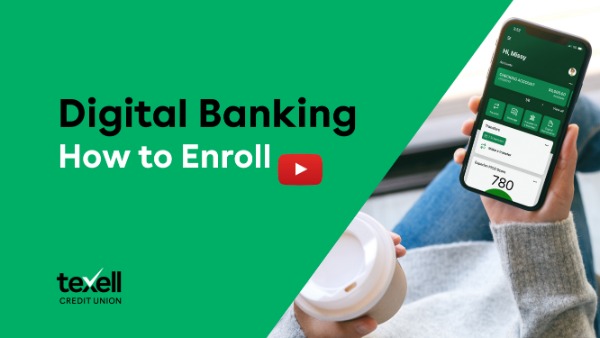 Download Texell's mobile banking from the App Store or Google Play. If you are on a desktop computer or laptop, navigate to Texell.org and select 'Login' and then 'Enroll in Digital Banking.' The following steps are the same on a desktop computer, laptop, tablet, or mobile phone.
Confirm your identity by entering your social security number or EIN if you are a business member. Enter your member number, email address, and phone number. This information must match what we have on file, or you cannot re-enroll without contacting us.
Next, you will be prompted to set up an additional verification step to further protect your account. Enter either a landline or mobile phone number on your account to receive one-time codes when you login from an unrecognized device. Your options are to receive a text message or a phone call.
Enter the verification code that was sent to via text message or phone call. When you correctly verify your account, you will receive a success message.
Next, please agree to Digital Banking's terms and conditions.
Now you will create your username and password, create a four-digit passcode for your account, and be prompted to enable face ID if you are on a mobile device.


Download the Texell Mobile Banking app and bank your way on your schedule.

---
Open 24/7, digital banking is loaded with features. Manage your accounts from your phone, tablet, or laptop anytime, anywhere. You're in control.

Deposit Checks: Use Mobile Banking on your tablet or phone to deposit checks anytime.1

Digital Wallets: Paying with a digital wallet is the easiest way to shop and keep your financial information private. Use your Texell credit and debit cards with Samsung PayTM, Fitbit PayTM, Google PayTM, Apple Pay®, and Garmin PayTM.

Card Controls: Use Card Controls to freeze your card, order a new card, activate your card, and change your PIN, and update your debit card daily limit within Online and Mobile Banking.

BONUS Reward Points: View your BONUS Reward Points and redeem them for cash, gift cards, travel, event tickets, and so much more!

Apple Watch: It's never been easier to monitor your accounts. With Texell's Apple Watch app, you can securely check your balances and view recent transactions. You can also use your Texell debit or credit card on your Apple Watch with Apple Pay.
Change Your Daily Debit Card Limit
Increase your daily card limit to make a large purchase.
If you plan to make a large purchase, there is no need to call Texell to increase your daily debit card limit. Now you can change your debit card purchase limit through Digital Banking.1
How to Temporarily Change Your Debit Card Limits
Watch this short video for step-by-step instructions:

1 Increased limit is generally effective for three days. Limit increases are not available for ATM withdrawals. The standard daily limit is $1,500 and the highest limit through Digital Banking is $5,000. If you need a larger daily limit, please send a secure message to Texell through Digital Banking. Limit increases are at Texell's discretion and may be subject to additional terms and conditions. Limit increases may be reduced at any time at Texell's sole discretion.
Frequently Asked Questions:
How do I enroll in Digital Banking?
You may enroll for digital banking online or from your phone by following the simple steps in this video.


Do I use the same username and password online and when using the app?
Yes, you will use the same username and password when accessing your account from a phone, desktop, or tablet.
How do I make a Mobile Deposit?
Making a Mobile Deposit is quick and easy. Watch this short video for step-by-step instructions.


How do I set up my digital wallet?
Select a digital wallet from the list below for step-by-step instructions to add your card.
How do I set up my Apple Watch?
Pair your Apple Watch with your iPhone.

Log in to Mobile Banking:

Select "Settings" from the left navigation menu. This is the option at the bottom of the list.
Toggle "Quick Balance" to the on position, if needed. The accounts selected through "Quick Balance" will be the accounts available on your Apple Watch.
Toggle "Watch Balance" to the on position.

That's it. The balances for your selected accounts and six months of transaction history on those accounts will be available on your Apple Watch.
How do i Increase my Debit Card Limit?
If you plan to make a large purchase you can change your debit card daily limit through Digital Banking.

Watch this short video for step-by-step instructions.
The process will work on your desktop computer, tablet, or mobile phone.
1. Once you have logged in to Digital Banking, click on "Card Controls" from the left-hand navigation.
2. Tap on the card you wish to update.
3. Tap on "Update Card Limit"
4. Enter a new limit up to $5,000
5. Tap "Update Limit"
6. Your new limit is in place. Your daily purchase limit is effective for three calendar days.

Please note that this limit only applies for purchases; it does not increase your daily ATM limit. If you need a daily limit higher than $5,000, please send us a secure message through Digital Banking.