Commercial Auto Insurance
Having the right insurance is essential if you're driving a vehicle for business reasons. Commercial auto insurance is designed for vehicles owned by, or used in, your business operations. Whether you're using a car to travel to and from business meetings, or you're carrying a few tons of cargo in a delivery truck, the right coverage can help protect you, your employees, and your business.
A commercial auto policy provides collision and comprehensive coverage for vehicles you own, lease, hire, or use in your business and liability coverage for bodily injury and property damage caused to others by your use of the insured business vehicles.


Benefits of Texell Insurance:
Individual attention: Local, trusted agents.
Independent: We are not limited to one insurance brand.
The best rates: Because we can shop around, we find you the very best rate, every time.
Shopping for you: Before your policy renews, we check to see if you still have the best deal.
Bundle and save: Combine two or more policies for exclusive discounts.

Texell Insurance is an affiliate of Texell Credit Union. Our agents are ready to protect your business out on the road.


Ready to Get Behind the Wheel with Texell Insurance?

make an appointment
Get a personalized experience with a Texell Insurance expert at one of our branches.


get a quote
Give us a call or send a message to discuss your business auto policy needs. A Texell Insurance agent has solutions.

Call 254.774.5181
Frequently Asked Questions:
Will my personal auto policy cover my business vehicle if I use it for both?
Personal auto insurance policies only cover personal use claims, including your commute and any travel unrelated to work. Personal policies have lower limits and usually cost less.

However, if you're involved in an accident while driving your personal car for work, your insurance company may refuse your claim, so if you own a vehicle used for work, you should consider commercial auto insurance.
Do I need a commercial auto policy if I am a rideshare driver?
Rideshare and contract delivery drivers face unique risks. Your employer may provide hired and non-owned auto insurance (HNOA) to protect you from liability, but if you find they do not, contact your Texell Insurance agent and ask about extending your coverage.
What factors determine the cost of my commercial auto insurance premium?
Commercial auto insurance premiums are based on several factors, including:
The type of commercial vehicles you own
The number of motor vehicles in your fleet
How often the vehicles are driven
You and your employees' driving records
In addition to these factors, your premium also depends on the type of coverage you choose, your industry risks, and the policy limits. Auto liability is required by law in most states, and comprehensive coverage is optional. Call your Texell Insurance agent at 254.774.5181 to explore the coverage options to find the right policy for you.

Texell Financial, LLC is a wholly-owned subsidiary of Texell Credit Union. Insurance products are not issued, guaranteed, or underwritten by Texell Credit Union or Texell Financial, LLC and are not insured by the NCUA.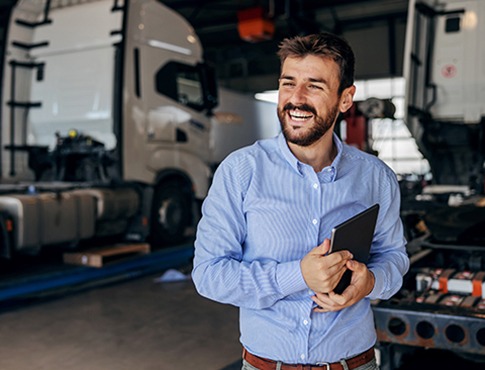 you may also be interested in…
4 Policies Your Small Business Needs
Every business — even home-based ones — should carry some level of insurance. Are you covered?