Discover the Benefits of Membership
When you bank with Texell Credit Union, you're not a customer; you're a member. And the benefits of membership are many.


In Addition to Trusted, Personalized Service, You'll Love:
Earning BONUS Rewards Points on your debit card!
Access to 92,000+ free ATMs worldwide
The best rates on loans, credit cards, and certificates


You'll Also Love…
Personalized consideration on loan applications, even when national banks say "no."
Deposit account balances insured for up to $500,000.¹
Trustworthiness and exceptional service, dating back to our founding in 1948.
All the features of larger banks with the service of a neighborhood institution that excels at service.
Ready to switch to something better? Open your account online now; it only takes 4 minutes!
1 Your deposits are federally insured for $250,000 and backed by the full faith and credit of the National Credit Union Administration, a U.S. Government agency. Your deposits are insured for an additional $250,000 through private insurance provided by Excess Share Insurance Corp.
Open your account in 4 minutes
Who's Eligible to Join Texell?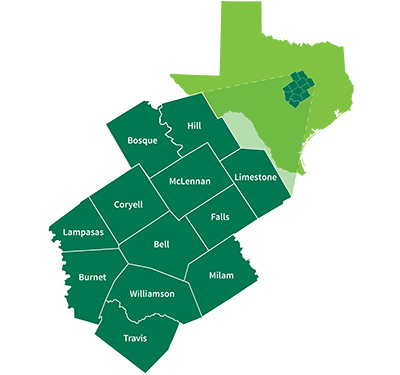 1. Anyone who lives, works, worships, or attends school in Bell, Bosque, Burnet, Coryell, Falls, Hill, Lampasas, Limestone, McLennan, Milam, Travis, or Williamson County, Texas.
2. Anyone with an immediate family member who is a Texell member.
3. All Texas residents who are an existing member of — or would like to join — the Texas Consumer Council, at Texell's expense.
Texell Makes Texas a Better Place
You live in Texas, so why not bank with a credit union committed to your community? When Texell Serves, we don't just write a check. We get hands-on. Learn more about the good work we do through Texell Serves.