Your Everyday Purchases Have Never Been More Rewarding!
BONUS Reward Points is an easy-to-use program that rewards you with points every time you use your BONUS Credit Card or BONUS Debit Card. From groceries to utility bills to dining, your purchases will really pay off.
Browse your reward options by logging in to Digital Banking and selecting BONUS Reward Points from the menu options.
How to Earn BONUS Reward Points:
With Texell's BONUS Reward Points, you earn points for using your BONUS Reward Debit and Credit Cards. Plus, the points are combined into one rewards account, making it quicker to earn and redeem points.

---
Many Ways to Spend Your Reward Points
There are hundreds of reward options waiting for you:

Cash
back
Get cash for your points and use your rewards any way you want.

travel, event tickets, and Experiences
Redeem your points for plane tickets, hotel stays, car rentals, and cruises. No blackout dates or annoying requirements.
---
From sporting events to concerts, the options to redeem your points are limitless.
---
How does whitewater rafting sound? Prefer visiting a day spa? Redeem your BONUS Points for all kinds of experiences.

Gift cards
and Merchandise
Redeem your points for gift cards at hundreds of nationwide restaurants, retailers, and online stores. Redemptions start at just 1,400 points.

---
You can choose from brand name products like Apple®, electronics, appliances, children's items, and so much more.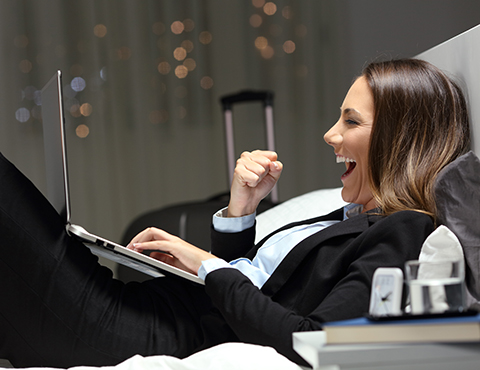 Getting the Most Out of Your Reward Points
An estimated 29% of people who collect credit card rewards let them expire. That's leaving money on the table!
Frequently Asked Questions:
Texell's BONUS Reward Points expire five years after the day you earn them. You will also lose your points if you close your account or it is not in good standing.
The easiest way to redeem your points is through Digital Banking. Log in and select BONUS Reward Points from the menu options. Prefer to talk to someone? No problem! You can get information and redeem your points by calling 855.773.1604, option 5, and then option 4.
How long does it take for my gift card or merchandise to arrive?
Please allow the standard shipping time of 2–4 weeks to receive your order. The standard shipping time for gift cards is 5–10 business days. Gift cards are shipped via first class U.S. mail (or UPS Ground for orders over $300); eGiftCards will be delivered immediately via email.

When will my cash back be credited to my account?
Cash will be into your Texell account within three business days. You can select to have your money deposited into your savings or checking account or credited to your credit card balance.

How often do I earn points?
You automatically earn points with every purchase.1 Points are added to your rewards account daily.
1 Points will be accumulated at the rate of: 1. One point per every four (4) dollars charged to the cardholder's enrolled BONUS Debit Card on signature transactions only. Points will not be issued on debit PIN transactions. 2. One point per every one (1) dollar charged to the cardholder's Platinum BONUS Credit Card. 3. One and a quarter (1.25) points for every $1 charged to the cardholder's Signature BONUS Credit Card. Members will also earn a bonus of (0.75) points for purchases made for Utilities and Charity and Membership purchases.