Direct Deposit — Make Your Payday Automatic
Save time by having your paycheck automatically deposited into your savings or checking account.
Ask your employer to set it up for you today. You'll need your account number and Texell's routing number, 311989250, so make sure to have these handy. Or download our direct deposit form to provide to your employer.
To find your account number:
Log in to Digital Banking.
Select your checking account associated with the transaction(s).
Click "Details" to view both your Routing Number and Direct Deposit Account Number.
Your direct deposit account number is longer than (but includes) your Texell account/member number. This entire longer version is required for direct deposits to post to your account.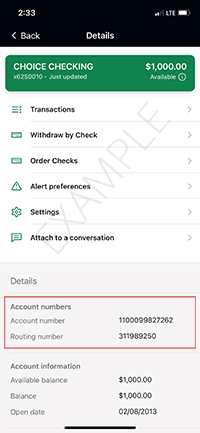 Pictured above: Checking account
details displayed in Texell's mobile
app.
If you have any questions or need help identifying your routing and account numbers, please contact us at 855.773.1604.


Benefits of direct deposit
It's convenient. Direct deposit eliminates the need to deposit your paycheck at a branch or through Mobile Deposit.
It's fast. You'll get access to your funds early on payday.
It's safe. It reduces the risk of your check being lost or stolen.
It's flexible. You can easily divide your direct deposit between multiple accounts.